Using Undo Send in gridhost.co.uk webmail

The option to unsend email is a feature that allows for retracting your message after sending it so you can make appropriate edits, add an attachment, or forgo sending it altogether.

Unfortunately, gridhost.co.uk doesn't offer anything like an "unsend" or "undo send" feature in its interface.

Good news though! gridhost.co.uk supports IMAP, so you can access the "undo send" feature through a desktop email client like Mailbird.
How to unsend an email you messaged from gridhost.co.uk
In order to access the "undo send" email feature with your gridhost.co.uk, just follow the steps described below. You'll be able to try this feature in Mailbird for free.
Download and install Mailbird

Mailbird is a desktop email client that is very convenient for managing multiple addresses, either in its unified inbox or separately. It supports most email providers, so you can boost almost any kind of account with unique features like the option to unsend emails.

So, the first step is to download and install the app on your desktop.

Add your gridhost.co.uk account

Launch the Mailbird app and add your name, gridhost.co.uk address, and password. Then, wait for the server settings to configure (or do it manually). You'll be able to add more accounts in the Settings menu later on.

Go to Composing tab in Settings

In this tab, you can choose the timeframe in which the "undo send" email feature works. By default, the feature is set to 15 seconds, but you can also extend this period for up to 30 seconds.
How unsend feature works
Once you click the Undo button, the message goes back to your drafts.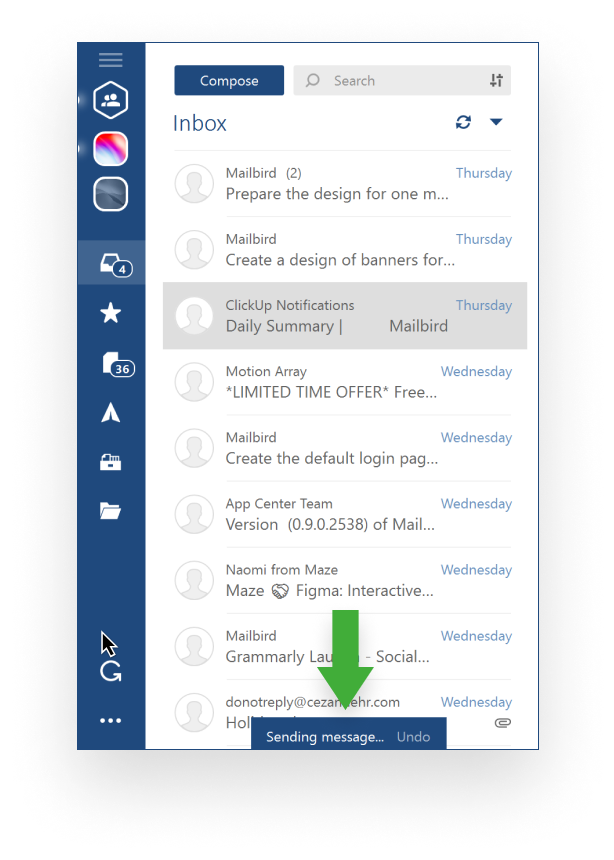 You can find it in the relevant folder and alter it in any way necessary before sending it again. Alternatively, you can scrap it and create a new message altogether.